Now that several judge candidates have been "outed" so to speak for improprieties or perceived improprieties on the campaign trail, will all this exposure in the press help or hurt their campaigns? What about the ones who so far have stayed above the fray? Should they wallow in the mud with the rest, or hold their heads up high?
Only time will tell. But all campaigns are ramping up. More mailers, TV ads, Facebook rants - who knows what to expect?
Is the legal business a lofty profession or just a bunch of sleazeballs looking for the next ambulance to chase? A little of both. As a lawyer myself, I like to think the best of my colleagues. Personally, I'm looking for ethics, consistency, compassion and a strong grounding in the law from my judges. That and a showing of respect for all who enter the courtroom, from litigants, to the other lawyers, to victims of crimes and those accused of crimes, to the jurors who give up their time, and often money from their jobs to serve.
If they can't keep their campaigns out of the muck and mire, what will their courtrooms be like?
Think on it.
A happy Memorial Day to all. Here's a little something to throw on the barbie while you wade through all those flyers you've saved from your mailbox over the last few weeks. You have saved them all, for a deliberative decision making process, haven't you?
Grilled Prosciutto Wrapped Asparagus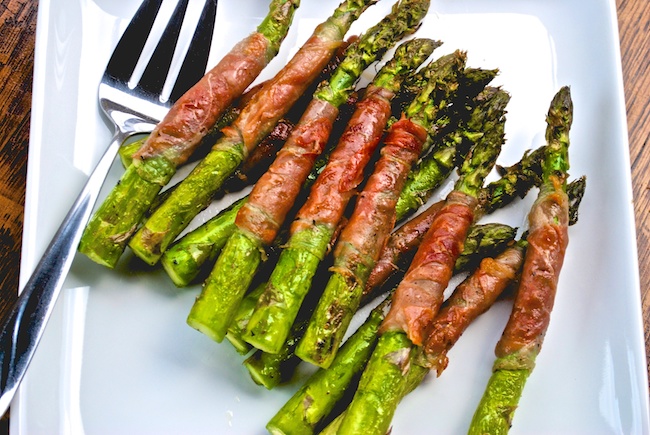 Prosciutto wrapped asparagus seems to be my new latest addiction. It is...
mmm
.....
mmmm
good. I know, I know, another post on asparagus huh? I have grilled these three times in the last couple of weeks, so had to write about it. They are just so simple to make and very tasty! Trim, wash, wrap, brush with olive oil, season, and throw them on the grill. It's a slam dunk! Grilled Prosciutto wrapped asparagus is a great appetizer but I like them as a side dish as well. I recently paired them with grilled
Cornish Games Hens
. As I mentioned in a previous post, we do love asparagus in our home and it is asparagus season here in northern California. The earthiness of the Asparagus is enhanced by grilling. Add the thinly sliced Prosciutto and you are really onto something. Asparagus has always been one of my favorite grilled veggies and this recipe moves it up the list for sure.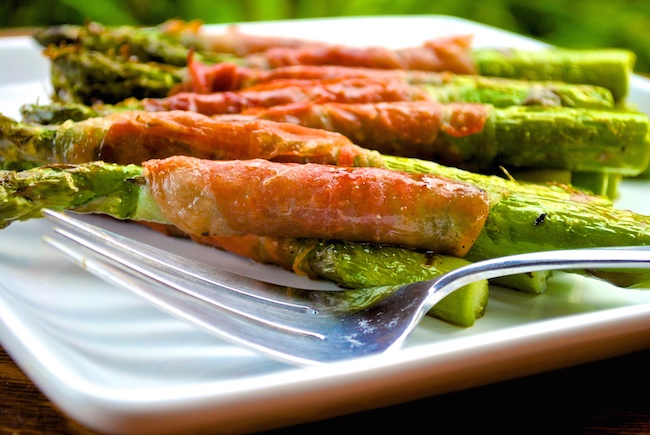 The sweet, savory, salty taste of the grilled Prosciutto along with the smoky, rich earthy flavor of the grilled asparagus sits well on the palate. It is a wonderful little finger food to go along with a nice glass of wine. Prosecco or
Cava
is a good pairing for this as an appetizer. Sauvignon Blanc and Chardonnay also pair very well. The thicker fat asparagus work well wrapped individually while the smaller ones are better nicely wrapped in bundles of three or four.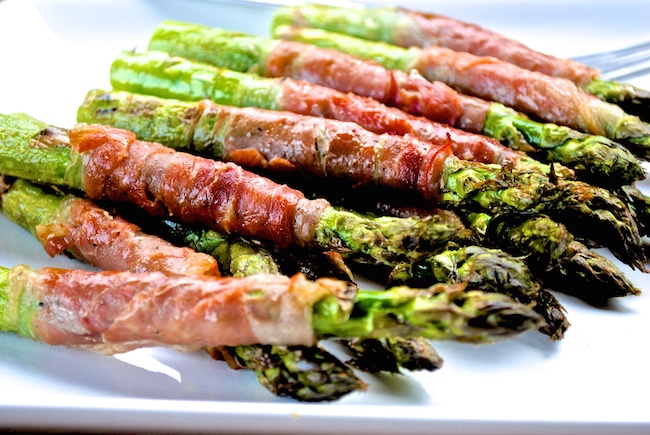 I like my asparagus with a little firmness left in them. If they get a little too done, they can be mushy and lose some of that great flavor. The great thing about Prosciutto is that because it is so thinly sliced, it will crisp up easily and you won't have to worry about overcooking the asparagus to do so. If you like asparagus, give this recipe a try as an appetizer or side dish. It will be something you will make again and again! Until next time, Happy Grilling!
| | | |
| --- | --- | --- |
| Grilled Prosciutto Wrapped Asparagus | | Print |
Prep time:
Cook time:
Total time:
Ingredients
16 - large Asparagus spears (3/4 - 1") with tough ends trimmed off.
16 - slices of Prosciutto, thinly sliced
2 tablespoons - olive oil
Salt and pepper to taste
Instructions
- Trim off the tough ends of asparagus spears, wash thoroughly, and pat dry with paper towel.
- Wrap each asparagus spear with a thin slice of prosciutto.
- Brush the wrapped spears with olive oil
- Lightly season with salt and pepper to taste
- Place spears over medium heat (300°-350°F) on charcoal or gas grill. Cook until prosciutto is crisp and asparagus is tender but not limp.
Notes
If you are using the smaller pencil sized asparagus, wrap the spears in bundles of 3 or 4.